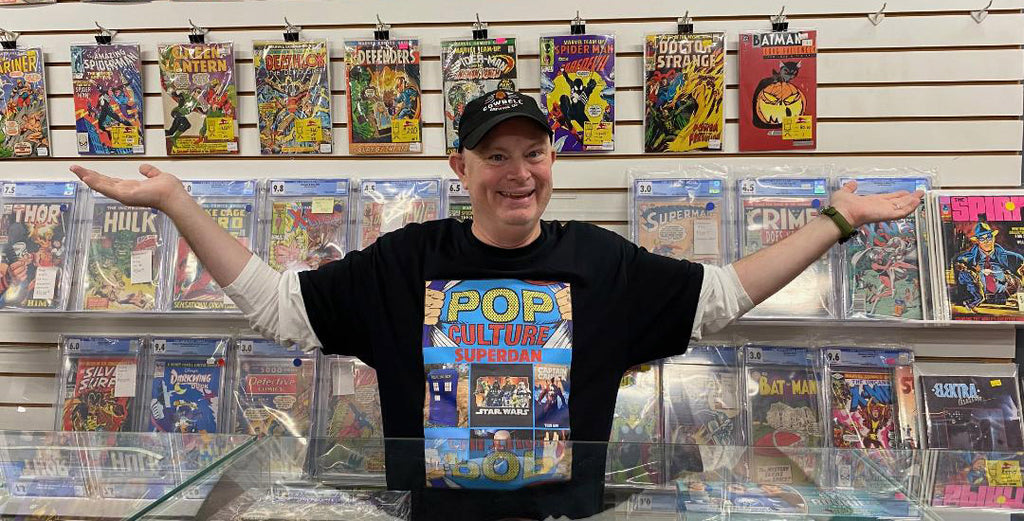 Why I Love London Ontario Comic Book Fans
by L.A. Mood Comics and Games
By Dan Brown

This week's column is a list of all the things I love about comic fans in London, Ontario.

It's a totally subjective exercise, and your list – if you were to draw one up – would likely be different.

Of course, only a fool or a madman would try to describe all the things that make such a big group of people unique. Yet that's exactly what I'm going to try to do.

Comic fans at large get a bad rap as a complainy, cynical bunch who are never satisfied. My experience with London comic fans, and Forest City geeks in general, has been totally different.

There are thousands, maybe tens of thousands, of such fans in our city, and I have found them to be earnest, genuinely enthusiastic people who just want a space of their own to pursue their enthusiasms.

Sure, there's the odd cynic, but broadly speaking I've found the comic and pop-culture fans here to have pure hearts and creative minds.

I base this view on my work as a journalist covering pop culture, documenting the geek scene in London over the last couple decades, as well as trips to area conventions and fan gatherings, plus my conversations with many involved in the local comics biz.

My sense is that what London comic fans want is simple: Compelling characters in interesting situations. If Marvel and DC, the Pepsi and Coke of the comic industry, can't give them those bare-bones requirements, it's not the fault of comic readers, who don't want gimmicks but just solid stories.

This coming weekend will feature arguably the biggest gathering of genre fans in Canada at Fan Expo in Toronto. When I visit the local equivalents, like Forest City Comicon, I'm struck by how young the attendees are, or perhaps "young at heart" is the better way to describe how they carry themselves.

I'm also struck by their creativity, which you can see in the form of cosplay. I still remember the steampunk Doc Ock that made a stir at the first FCC in 2014. The costume was that good. And if I had to guess based on costume choices, I would say manga and anime fans are the biggest subgroup within the local cosplay community.

The fans who patronize FCC have made the event worth remembering and you can count on it to be a peaceful, fun forum that gives comic devotees a chance to hang out with other fans in person. I never hear complaining there. As a group, they generate such a beautiful, positive energy.

Comic devotees also appreciate how there is a genuine geek calendar in the Forest City now, with events like FCC, Tingfest, London Comic Con, and Free Comic Book Day being fixtures that are part of the annual roster of things to do.

Those Londoners who love comics and have made reading and collecting them their favourite pastime also take pride in the way Southwestern Ontario has developed into a hotbed of comic talent.

They love that Jeff Lemire is from Woodslee in Essex County. They love how Seth, the father of the autobiographical Canadian school of graphic novels, spent his childhood in places like Strathroy and Tilbury. They cheer when they see London depicted in the pages of It's a Good Life if You Don't Weaken.

They likewise love that Stuart Immonen lived in London. And they claim Derek Laufman, Diana Tamblyn, DS Barrick and A.Jaye and Alison Williams as their own. Want to make a London comic fan laugh? Just remind them how Bryan Lee O'Malley couldn't get a job at L.A. Mood selling comics, yet went on to create Scott Pilgrim!

Of course, I could be wrong.

I could be way off the mark in my feelings. Maybe this is more of an aspirational list, or perhaps I'm flattering myself by describing what I wish comics fans, including yours truly,, were like.

It's possible. But I don't think so.

And if I am mistaken, let me know in the comment box below where I've gone wrong!

You tell me: What do you love about being a comic fan in London?

Dan Brown has covered pop culture for 30 years as a journalist and also moderates L.A. Mood's monthly graphic-novel group.